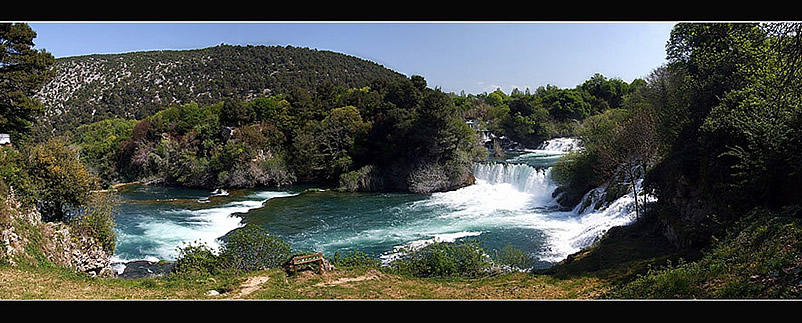 Nacionalni park je prostrano, pretežito neizmijenjeno područje iznimnih i višestrukih prirodnih vrijednosti, a obuhvaća jedan ili više sačuvanih ili neznatno izmijenjenih ekosustava. Namjena mu je prvenstveno znanstvena, kulturna, odgojno-obrazovna i rekreativna, a turističke djelatnosti u ulozi su posjećivanja i razgledavanja. Nacionalni park "Krka" proglašen je 1985. god. i sedmi je Nacionalni park Hrvatske. Smješten je u cijelosti na području Šibensko-kninske županije, a obuhvaća površinu od 109 km2 uz tok Krke: dva kilometra nizvodno od Knina do Skradina i donji tok Čikole. S potopljenim dijelom ušća duga je oko 72,5 km i po dužini je 22 rijeka u Hrvatskoj.

Rijeka Krka izvire u podnožju planine Dinare, 3,5 km sjeveroistočno od Knina podno 22 m visokog, zimi bučnog a ljeti bezvodnog Topoljskog slapa, Velikog buka ili Krčića slapa. Dužina slatkovodnog vodotoka je 49, a bocatog 23,5 km. Značajni pritoci rijeke su Krčić, Kosovčica, Orašnica, Butišnica i Čikola s Vrbom.
Sa svojih sedam sedrenih slapova i ukupnim padom od 242 m Krka je prirodni i krški fenomen.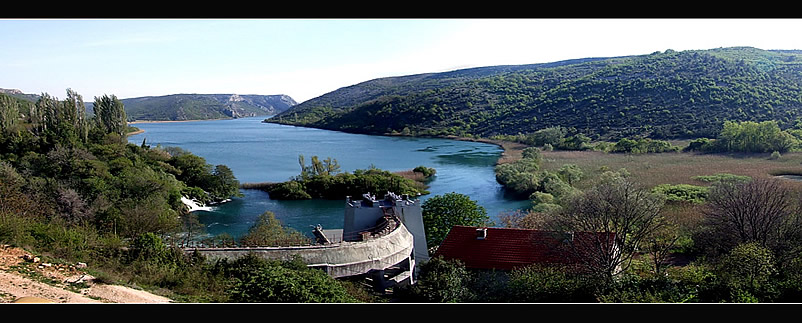 The Krka National Park is a spacious, largely unchanged region of exceptional and multifaceted natural value, and includes one or more preserved or insignificantly altered ecosystems. It is intended primarily for scientific, cultural, educational, recreational, and tourism activities such as visiting and sightseeing.
It was proclaimed a national park in 1985 and is the seventh national park in Croatia.

The Krka National Park is located entirely within the territory of Šibnik- Knin County and encompasses an area of 109 square kilometers along the Krka River: two kilometers downriver from Knin to Skradin and the lower part of the Čikola River. From the flooded part of the mouth, it is 72.5 kilometers in length, making the Krka the 22nd longest river in Croatia.

The source of the Krka River is at the base of the Dinaric Mountains, 3.5 kilometers northeast of the base of Knin and 22 meters below Topoljski Slap, Veliki Buk and Krčić Slap, which are noisy cascades in the winter but run dry during the summer.

The length of the freshwater section of the river is 49 kilometers and that of the brackish section is 23.5 kilometers. Significant tributaries of the Krka River include Krčić, Kosovčica, Orašnica, Butišnica and Čikola with Vrb. With its seven travertine waterfalls and a total drop of 242 meters, the Krka River is a natural and karstic phenomenon.